G2520/40/50/60/80
G3020/40/50/60/80
X axis
2000/4000/5000/6000/8000 mm
2000/4000/5000/6000/8000 mm
Y axis
2500 mm
 3000 mm
Z axis
1000 mm
 1000 mm
Table Length
2000/4000/5000/6000/8000 mm
2000/4000/5000/6000/8000 mm
Table  Width
2580/2500/2500/2500/2500 mm
3000 mm
MAX. Table load
8 kg/m²
Rapid traverse
XY=60 Z=40 m /min
X.Y.Z axis acceleration
5 m/sec²
Spindle taper
HSK63A
Spindle speed
24,000 rpm
Spindle power
( S 1 / S6)
35/42 kW
Spindle torque
( S 1 / S6)
55.6/67.2 Nm 
Recommended 2-axis head
Mono Support Milling Head
Swivel/Rotation Torque
A=529/869 Nm
C=783/1,300 Nm
Swivel/Rotation Speed
A=C=30(cont)/60(max) rpm
Swivel/Rotation Angle
A=±125° C=±360°
Clamping Torque
A=4,000 C=4,000 Nm
Tool shank
30T
Max. tool length
300 mm
Max. tool diameter with
adjacent tool
Ø75 mm
Max. tool diameter
without an adjacent tool
Ø150 mm
Weight
35-65 tons.
Casting-made saddle, ram and base
WITH EXTREMELY HIGH BODY STABILITY, THE MACHINE HAS THE BEST RIGIDITY TO ENSURE MACHINING ACCURACY.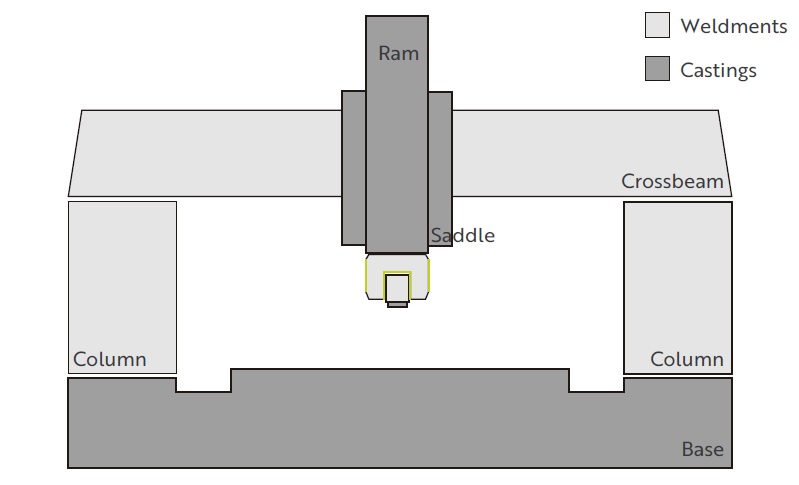 U-shaped force flow structure
One-piece U-shaped and high rigid structure enhances long-term accuracy and stability thanks to the shortest transmission of the force flow and evenly distributed cutting force. 
Ductile-iron-made ram 
The ram is made by ductile iron for high rigidity and vibration damping. The machining accuracy and stability could be increased.
X/Y axis driven by linear motor
Linear motor provides excellent dynamics and static rigidity. The rapid feedrate of the axis is up to 60m/min and the acceleration is up to 0.5G ~ 0.7G. The structure is simple and easy to maintain without transmission power loss.
Z-axis driven by double ball screws with innovative hollow water cooling technology
Z-axis is driven by double ball screws which could ensure concentric of the moving part center and  the weight center so that the vibration could be eliminated. Moreover, it is equipped with hollow water cooling system for precise temperature control and thermal deformation control.
Two-axis head driven by direct drive motor
Excellent surface finish contour could be enhanced thanks to the high torque direct drive motor system of two-axis heads.Small size appearance is suitable for complex curved surface machining and the advantages include low error, high resolution and high speed.
Optimized working area
Heightened column design provides larger Z-axis travels which is perfect for mold makers