SKM2740/50/60/80
SKM3240/50/60/80
SKM3740/50/60/80
X axis
4,000/5,000/6,000/8,000 mm
Y axis
2700 mm
 3200 mm
 3700 mm
Z axis
1000 mm
Table Length
4,000/5,000/6,000/8,000 mm
Table Width
2200 mm
 2700 mm
 3500 mm
MAX. Table load
8000 kg/m²
Rapid traverse
XYZ=60 m /min
X.Y.Z axis acceleration
5-8 m/sec²
Spindle taper
HSK63A
Spindle speed
24,000 rpm
Spindle power
( S 1 / S6)
60/75 kW
Spindle torque
( S 1 / S6)
48/60 Nm
Recommended 2-axis head
Fork Type Milling Head
Swivel/Rotation Torque
B=1,192/1,980 Nm
C=1,050/1,740 Nm
Swivel/Rotation Speed 
B=C=30(cont)/60(max) rpm
Swivel/Rotation Angle
HSK63A:B=±120° C=±360°
Clamping Torque
B=4,000 C=4,000 Nm
Tool shank
30T
Max. tool length
300 mm
Max. tool diameter with
adjacent tool
Ø100 mm
Max. tool diameter
without an adjacent tool
Ø130 mm
Weight
52-99 tons.
Box-in-Box structure
Symmetrical geometry design with Box-in-Box structure of cross beam and saddle. Excellent force flow design decreases thermal deformation. High accuracy during high-speed machining can be performed.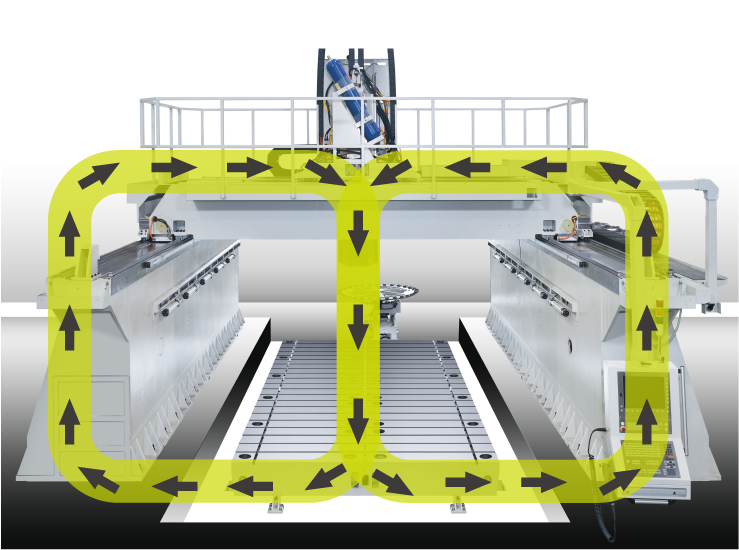 Unequal thickness of Ram with honeycomb structure
Ram equipped with honeycomb structure performs the best balancing design and better geometry.
Crossbeam flushing system
A high-pressure pump with groups of powerful nozzles can quickly remove the chips.
Complex chip removal system
A dual-chip removal system with a large-capacity water tank could make coolant and chip removal stable.
5-axis simultaneous machining
5-axis machining accuracy difference is below 0.01mm.
Special spindle for aluminum alloy processing
Ultra-high-speed and power spindle with the best material removal rate.
X/Y/Z-axis driven by linear motor
All three axes are driven by dual linear motors.
Max. feedrate:60 m/min
Max. acceleration:5 m/sec²
Automatic attachment head exchange system
Different angle heads could be mounted to match various applications and it is best for machining in narrow spaces.
Automatic top-roof cover
Movable beam design of top-roof cover could prevent the spreading of chips and coolant liquid.